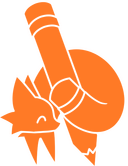 Software Engineering without the suits and ties.
Hey there! We're Pencil Fox Studios, but you may refer to us as software engineers with way too much free time.If you've seen our work, you would know that one project we put our name on is never the same as another. Most importantly: our goal is to not bore you.We are proud of our ability to think outside the box, and put together creativity-first software solutions that nobody has ever seen attempted before.

Liam Weiner
Hey! I'm Liam. I am currently a second year software engineering student at the Rochester Institute of Technology. I've been casually programming for a little over 6 years now, with a focus in server-side programming (NodeJS). Most of my up-to-date skills and proficiencies can be found on my resume (available upon request). I'm currently seeking a summer 2024 co-op position in the field of software/computer science. Please don't hesitate to reach out if you're interested in hiring me!
design of pencil fox
here is the reference for pencil fox. you found it!